Protect your mobile workforce | FREE trial View email online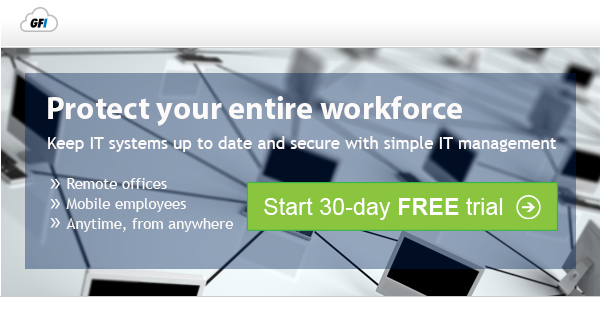 It can be difficult and time consuming to stay on top of all your company's IT systems, especially when they are spread across multiple sites, with a mobile workforce that is rarely in the office.

But it doesn't need to be that way...

With antivirus protection, proactive patch management and instant notifications of problems all from one easy-to-use, web-based console - you are in control.

Catch problems early, fix them fast with GFI Cloud™...

Keep IT systems up to date,

secure and running at peak performance

Push antivirus and patch updates

out quickly and efficiently across all locations

Proactively manage patches

for Microsoft and key third party applications

Manage security with real-time protection

against viruses, spyware and other malware

Access the web console anytime

from anywhere for a complete picture of IT
GFI Cloud is an easy to use IT management platform that puts you in control...
Antivirus Protection

Patch Management

Server & Workstation Monitoring

Asset Tracking
GFI Software, 4309 Emperor Blvd, Suite 400, Durham, NC 27703


tel: +1 888 243 4329

•
© GFI Software. All rights reserved. All product and company names herein may be trademarks of their respective owners. To the best of our knowledge, all details were correct at the time of publishing; this information is subject to change without notice.
This message was sent to @email@
If you no longer wish to receive future email marketing messages from GFI software, please send an email to unsubscribe@gfi.com
Please allow up to five working days for your unsubscribe request to be processed.